SUNNY FJORD
Smitten by Solva
A vibrant harbour village
Just the place for a relaxing break
pembrokeshire's most picturesque harbour village
ABOUT SOLVA
Solva/Solfach is an exceptional spot in Pembrokeshire. Its distinctive, sinuous harbour mouth is a 'ria' – a drowned river valley from the Ice Age – whose steep sides and dramatic light contrast with much of south Wales' gentle coastal scenery. The very name Solva could be Norse, dating from the Viking invasions: Sol Vo meaning 'sunny fjord'.
The village once traded with Bristol and with Wexford across the Irish Sea. What is now a peaceful cove of bobbing boats was once a heaving industrial settlement (Solva retains its distinctive circular limekilns), a smugglers' paradise (with its tortuous harbour mouth) and – most surprisingly of all – a transatlantic gateway (steamship passages to the USA were briefly sold here in the 1840s for £3 per adult)!
Nowadays, visitors dropping in from the surrounding Pembrokeshire Coast Path relax in one of the village's four hostelries. Alternatively, they may browse the multicoloured portals of the sprawling Window on Wales emporium (modelled, it's claimed, on the brightly coloured villas of Portmeirion in north Wales), or take in a cream tea at a local cafe or a spot of crabbing before setting out, fortified, on the clifftop path once again.
THREE SIDES OF SEA
Solva also makes an ideal base from which to spend a few days exploring the beautiful St Davids Peninsula – whether by touring, cycling, coasteering or on Pembrokeshire's world-famous coastal path, which takes you through the contrasting seascapes of the peninsula's three shores.
Exposed cliffs, beautiful beaches and coves, prehistoric vestiges and the post-industrial landscape of the promontory are all within a few miles of Haroldston House, and many are accessible via Pembrokeshire's network of 'walkers' buses'.
find out more
Solva News publishes a monthly newsletter and also has a website and Facebook page @SolvaNews; it also has an events calendar.  Solva Community Council's website and Facebook page is worth a visit, and lists local organisations and facilities.  Solva Business Group's website has information on Solva businesses, and its Facebook page @visitsolva has local news and offers.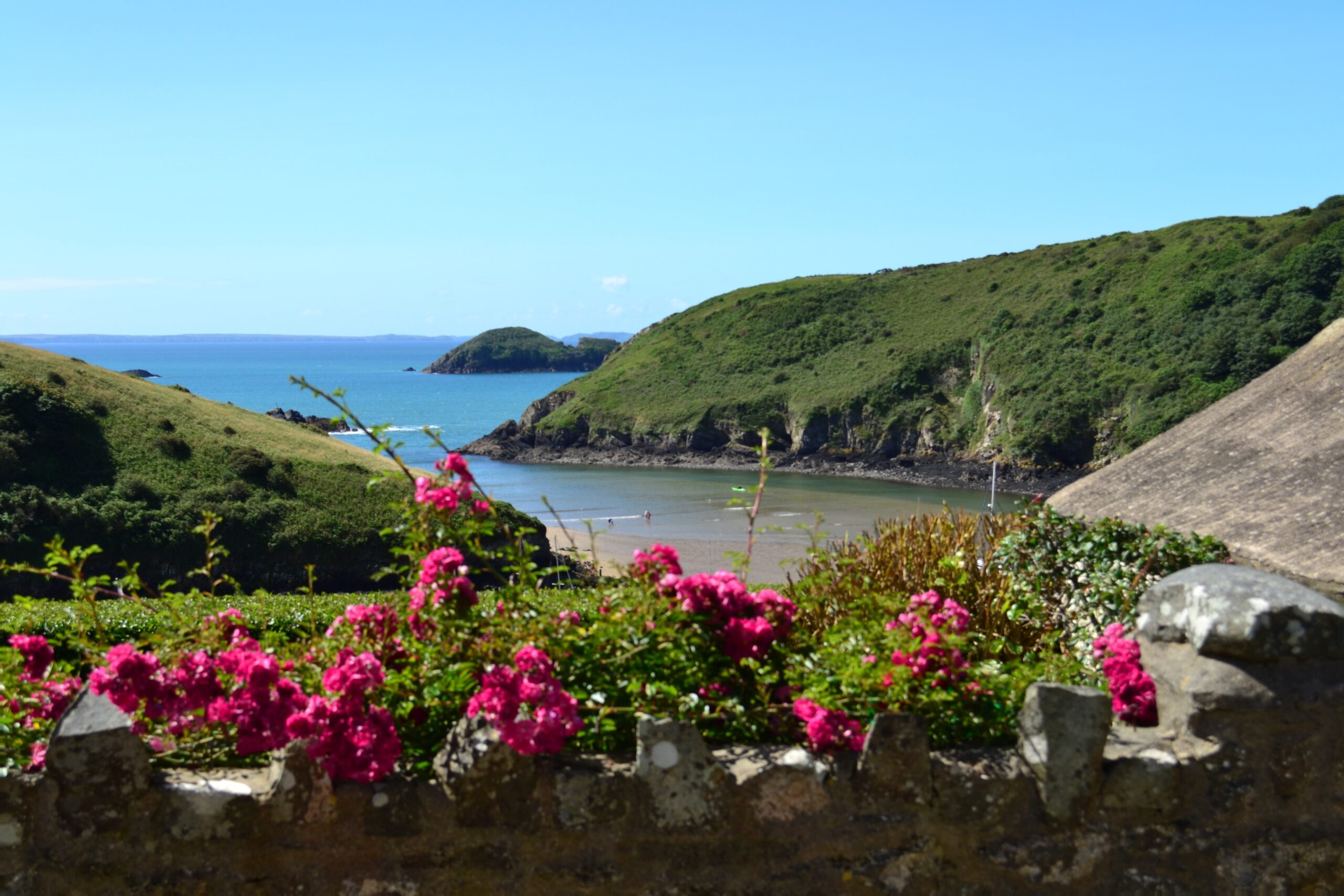 so why not stay?
ART AND ACCOMMODATION
AT HAROLDSTON HOUSE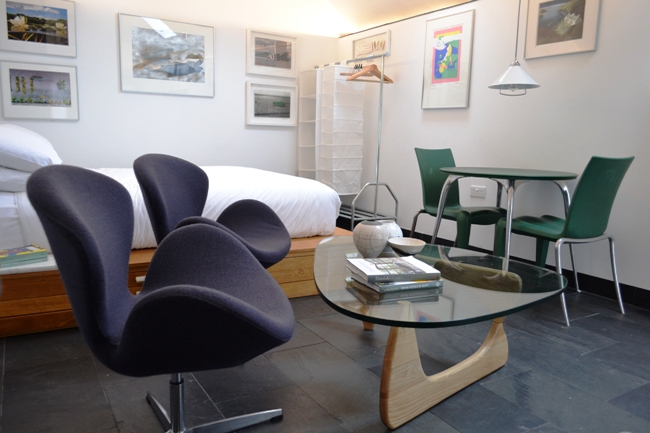 The Stable Studio
Offering short breaks all year round, our bijou studio – sleeps 2 – is in the garden of Haroldston House in Upper Solva. The light space with slate floors is full of contemporary art and mid-century furniture – all of which make it, we're sure, the most stylish stable in Solva! It has a mini-kitchenette with dishwasher, wetroom with rainshower, central heating, log burner, Smart TV, Wi-Fi, firepit/barbecue, wood-fired pizza oven, complimentary 'starter breakfast' provisions, free parking nearby and is carbon neutral.
Price for a 3-night self-catering stay from
£286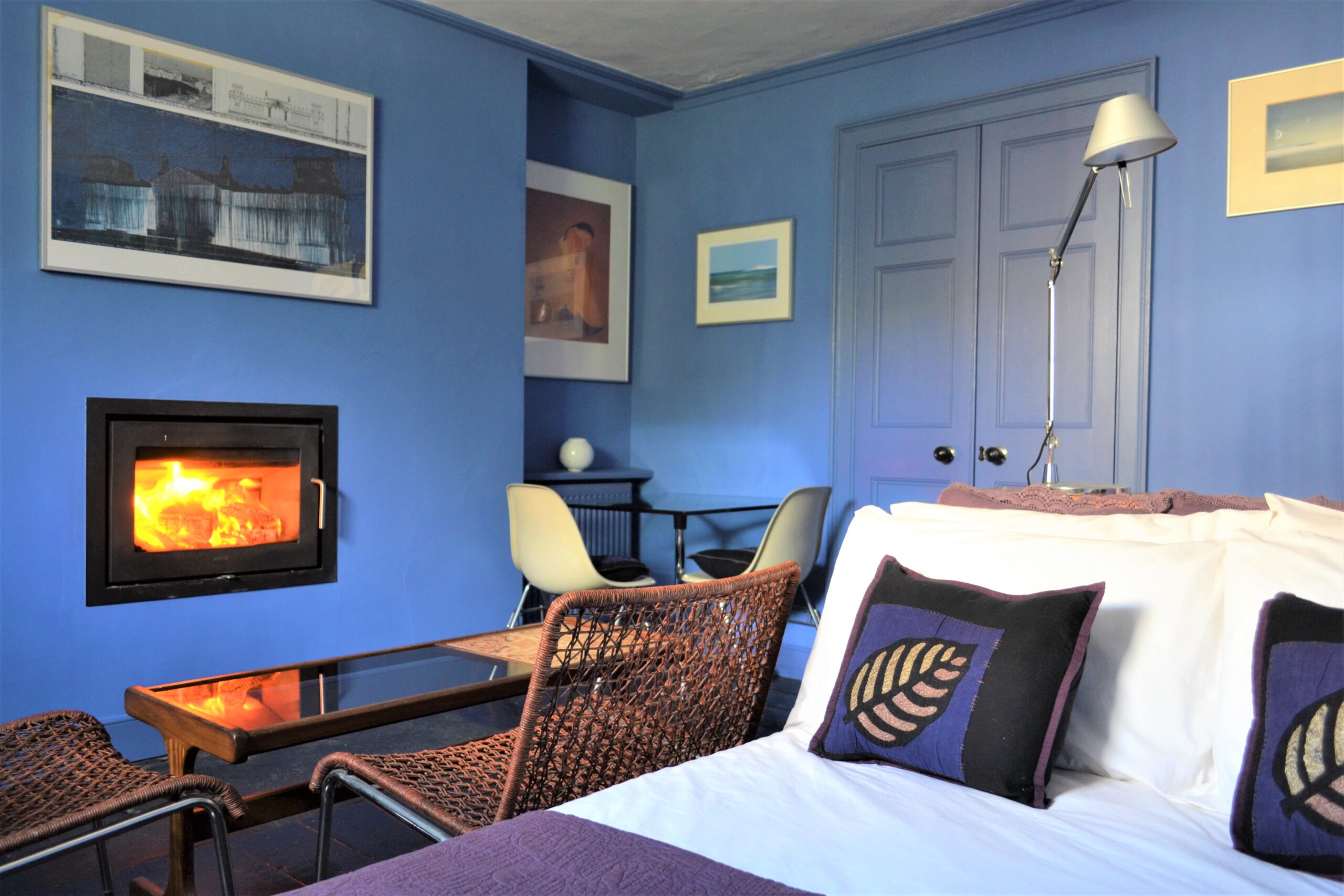 The Blue Room
Great for couples, our  Blue Room is a stylish, ground-floor, self-contained space. Painted deep blue, with original floorboards and window shutters, it is full of contemporary art and mid-century furniture, with a sofa bed with Egyptian cotton bed linen. Created out of one of the former reception rooms in this Georgian merchant's house, it is accessed off the hallway and has a small kitchenette, wetroom, log burner, Wi-Fi and Smart TV, as well as a dedicated parking space; it is also carbon neutral.
Price for a 3-night self-catering stay from
£276