our garden room
The Stable Studio
£298 for a 3-night stay in Low Season (extra nights £86)
£328 for a 3-night stay in Mid Season (extra nights £96)
£346 for a 3-night stay in High Season (extra nights £102)
about the apartment
THE STABLE STUDIO
The Stable Studio, in the garden of Haroldston House, has been created out of its former 18th-century stable and pigsty. The last occupant was the local baker's donkey, who delivered bread around Solva. It is extremely bijou (photos are taken with a wide-angle lens!) – at just 25 sq.m.
The feel of the room is very much that of a studio in the garden. The white space with slate floors is full of art in blues and greens; We think it's the most stylish stable in Solva!
ACCESS
The Stable Studio is accessed through the main house, down a steep, narrow flight of stone steps and through the garden. The Stable Studio is a private space for guests, as is the garden. Access to it is through the main house and you are welcome to enjoy the public hall and stairs which are full of art and books. The washing machine and dryer are also located in the main house.
THE SPACE
It has a studio space with a king-size bed (5'3″/1.6m wide) with a medium-firm, memory-foam mattress; clothes-hanging rail; easy chairs around a coffee table; and a dining table. This room also has a Smart TV, Wi-Fi, hair dryer, central heating and a log burner. Leading off it is a mini-kitchenette with hob, combination microwave, fridge (with ice-box) and dishwasher. There is also a cafetiere and Velvetiser (for artisan hot chocolate). And off that, via a glass door, is a compact wetroom complete with rainshower.
WHAT YOU GET
Egyptian cotton bed linen and bath towels are supplied, as well as waffle bathrobes and slippers. There are tea and hand towels in the kitchenette, along with dishcloths, washing-up liquid and dishwasher tablets. There is free use of the washing machine and dryer (including washing detergent) in the main house. Wi-Fi, electricity, central heating and wood for the log burner are also included in the price.
THE GARDEN
The garden space has a firepit (with barbecue grill) and wood-fired pizza oven (we provide 2 homemade pizza bases per stay in your icebox), along with charcoal for barbecuing and kindling/logs for the pizza oven and firepit. There is also garden furniture for your use.  Help yourselves to the herbs and salads.
PARKING & BIKES
There is free parking available in a public parking area opposite the main house, approximately 30m up the road. Unfortunately, there is no facility for bike storage in the house or in the garden, as access to the Stable Studio is through the main house.
COMPLIMENTARY BREAKFAST PROVISIONS
To ease you into your holiday, and before you head out to explore the wonderful, local, Pembrokeshire produce, we provide you with 'starter breakfast' provisions in your fridge tailored to you specific dietary requirements.
SPECIAL OFFER!
We are carbon-neutral and offer a 10% discount if you arrive in Pembrokeshire by public transport.
King-size Bed (5'3"/1.6m)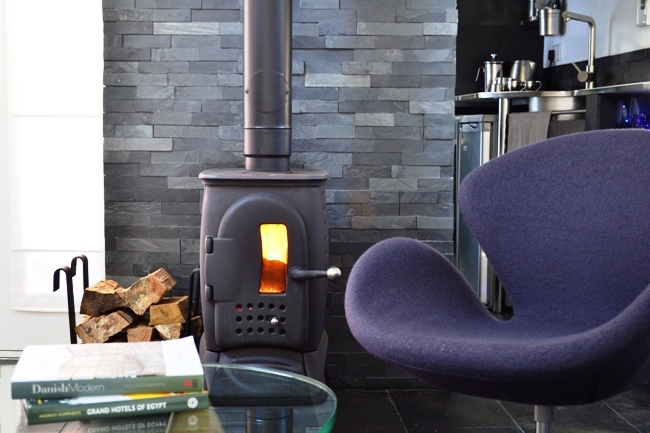 What'S INCLUDED
Amenities
Cafe Chocolat Velvetiser plus cafetiere
Complimentary first breakfast provisions
Guide books, maps and local information
Egyptian cotton bed linen
Garden with outdoor furniture
Wood-fired pizza oven & firepit with barbecue grill
Tea towels. washing-up liquid & dishwasher tablets
Forgotten items basket (with honesty box)
2022 rates 
THE STABLE STUDIO
The Stable Studio is let on a minimum 3-night self-catering basis for 2 persons – check-in being from 4pm and check-out by 12 noon. We are flexible with the check-in day, so please contact us with your specific requirements.
HIGH SEASON: Stays during 15 July-4 September: £334 for 3 nights, £98 for subsequent nights.
MID SEASON: Stays during 28 April-14 July and 5 September-2 October: £316 for 3 nights, £92 for subsequent nights.
LOW SEASON: Stays during 3 October – 19 October: £286 for 3 nights, £82 for subsequent nights.
SPECIAL OFFER
We are carbon-neutral and offer a 10% discount if you arrive in Pembrokeshire by public transport.
OTHER INFORMATION
Accommodation is self-catering and includes complimentary provisions for your first breakfast.
Sorry, no pet guests or children – and we are a completely non-smoking establishment. We do not require deposits, so is payment is 2 weeks in advance and we have a free cancellation policy.
We have 2 cats, so the accommodation may not suitable for those with allergies. Take a look at our Access Statement.
IF YOU BOOK, PLEASE BE AWARE THAT…
Parking is off-site and there is no space to store bikes.  Access to the Stable Studio is through the main house and down a steep flight of steps (for more information read out Access Statement).  There is no phone signal for some mobile phone networks, so please bear this in mind if you are on holiday with relatives in other accommodation; however, there is Wi-Fi so messaging services such as WhatsApp and Messenger work.  You are also welcome to use the house phone for dinner reservations etc.  We would ask you to respect our Blue Room guests' privacy if coming through the house early in the morning or late at night. The garden is your private space, but we will water plants and replenish your log store when you are not in residence; the window cleaner will also come once a month, but we will let endeavour to let you know when he is due.
WHY STAY?
GUEST REVIEWS FOR THE STABLE STUDIO
We have really enjoyed our stay at the stable.  We can't believe how many things you've provided and the interior feels homely but also has a quality feel.
Your breakfast items were super and lasted until we left (nearly).  Many thanks.
Thanks to Ian & Maria for hosting us in their lovely and comfortable Stable Studio.
There are so many thoughtful touches & both were attentive to our needs.
We had a wonderful time with terrific walks & views & interesting places to explore.
What a delightful studio apartment.  Everything you needed was here & worked. Wonderfully comfortable bed & pillows.  The best of our sojourn in the UK.
Location was perfect for walks on the Wales Coastal Path. 10 out of 10 for us.